Payday loans up to R5,400
Low-interest starting from 38%
Repayment up to 35 days
In-page navigation
---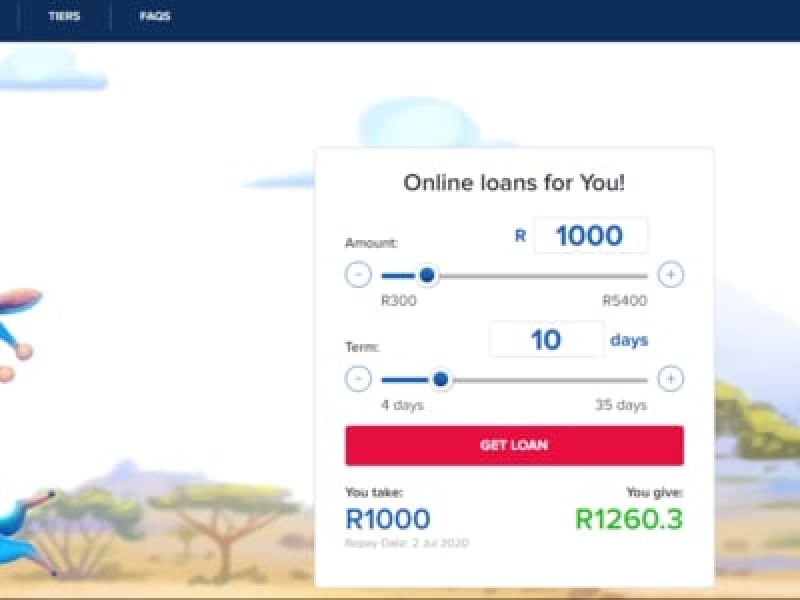 Author Konga. Screenshot of Konga website.


[Accessed January 21, 2021]
About Konga
Konga is one of the leading online lenders in South Africa.
While they haven't been in operation too long, they have dedicated employees with plenty of experience.
Their team of knowledgeable financial specialists hand in AI systems makes sure that every client gets exactly what they need and deserve.
What Konga wants
From the beginning, Konga has aimed to be the best payday loan, provider. They strive to become the leading company in online lending, and they're well on their way. Their seamless online lending has reinvented the online everything covered. And if that isn't enough, they have some of the most advanced technology in the online market today. Their advanced algorithms a loan market. They use their revolutionary technology to empower people across South Africa financially.
Hassle-free, easy online loans that you can apply for and get approved within minutes. What more could you want out of a lender?
The core values of Konga
At the centre of Konga's operations, are three of their most cherished values. Konga aims to integrate these values into its daily operations.
Integrity - Every employee at Konga must strive to be just in all their dealings, whether with clients or other staff.
Innovation - Konga strives to bring new and innovative products to its clients continuously.
Dependability - For the clients that have come to use Konga's services often, reliability is a huge factor.
It's good to know that a company like Konga holds such decent values. With this kind of dedicated service available 24/7, it's not hard to imagine why Konga has such glowing reviews. The clients who use their service repeatedly with a good credit score also gain access to a wide panel of benefits.
Konga Services
Konga specializes in short-term online loans.
With such a saturated online loan market, it can be difficult for a growing business to stand out. Konga made its name by delivering good services that people can use from all walks of life.
By increasing their clients' scope, they've reached more people over time and grew as a result. People with bad credit scores who previously never qualified for personal loans can now repair their credit scores through Konga. This is thanks to their tier-based system of lending.
Tier-based lending
Tier-based lending is a unique approach to lending. There are four tiers:
The starting tier
Silver tier
Gold tier
VIP tier
Each tier represents a different level of benefits and services. If you have a lower credit score, you'll start your lending journey at the beginning tier with a bad credit loan. As time goes on and you successfully pay off your loans, your credit score will improve, and you'll have access to more benefits and savings.
Kind of loans Konga has on offer
As previously mentioned, Konga specializes in short-term loans, namely payday loans. Their loans range from R300 to a total of R5400. As your credit score improves and you unlock higher tiers in the Konga system. These loans take place over a repayment period of between 4 and 35 days. You can select the length that would suit you best.
You can apply for these loans 24/7, and with a quick online application and speedy payout, you can have cash in your account in minutes. All tiers are loaned money at an interest rate of 0.16% per day, so the faster you pay off your loan, the better.
Konga – Payday loan
Loan Type

Payday loans

Interest Rate

from 38%

Loan Amount

up to R5,400

Repayment

4 days to 35 days
Benefits of Konga
24/7 loan applications
Automatic

loan transfers
Apply for a loan

up to R5400
The application is quick and easy
The entire online loan application process takes only 5 minutes. After a 3 minute registration, a 1-minute approval, and another 1-minute wait, you'll have money transferred into your account.
Speedy payouts like these are unheard of. Most lenders take at least 24 hours to send you your funds, but thanks to Konga's fantastic technology, you don't have to wait. As an added benefit for higher-ranking customers, you even get to use your loan for the first five days without paying any interest on it.
Applying is easier than you think. All you need is:
Your RSA ID
A 3-month bank statement
Once you have these two documents, you're set! Konga's AI can determine exactly what you qualify for. They pick the loan that suits you best and will help improve your credit score if need be.
As a responsible lender, Konga only supplies loans that its clients can handle and benefit from. If they believe that the loan you're applying for will in any way negatively affect your financial wellbeing, your application may be rejected.
How the application works
The application leads to registration for Konga's services. Once you've sent in your details, someone will contact you with further information regarding what you qualify for. Agreeing to these conditions will allow Konga to transfer your funds immediately.
The best part is, once you've taken out and repaid your loan with Konga, your access to subsequent loans is even more comfortable. To get a payday loan again with Konga, all you have to do is click the amount you want on the site, and Konga will credit the money to your account.
The system keeps an updated view of what tier of finance you qualify for, and will give you access accordingly. That means you can have up to R5400 in your account in under a minute. Take a commitment-free qualification test on Konga's site and see what you qualify for today.
Customer Reviews & Testimonials
"
September 2020
I use Konga's service all the time, I'm even a VIP member now!
Quenton L
— Uitenhage —
April 2020
Whenever I need a quick cash boost, I turn to Konga.
Pauline G
— Paarl —
March 2020
I always choose Konga for short-term finance like payday loans.
Michael P
— Johannesburg —
Konga Contact
Contact Number
E-Mail
Website
Physical Address
30 Lucas Ln, Bedfordview

Johannesburg

Gauteng

2007

South Africa
Opening Hours
Monday

08:30 – 17:00

Tuesday

08:30 – 17:00

Wednesday

08:30 – 17:00

Thursday

08:30 – 17:00

Friday

08:00 – 17:00

Saturday

– Closed

Sunday

– Closed