Payday loans up to R9,000
Low-interest starting from 10.5%
Repayment up to 65 days
In-page navigation
---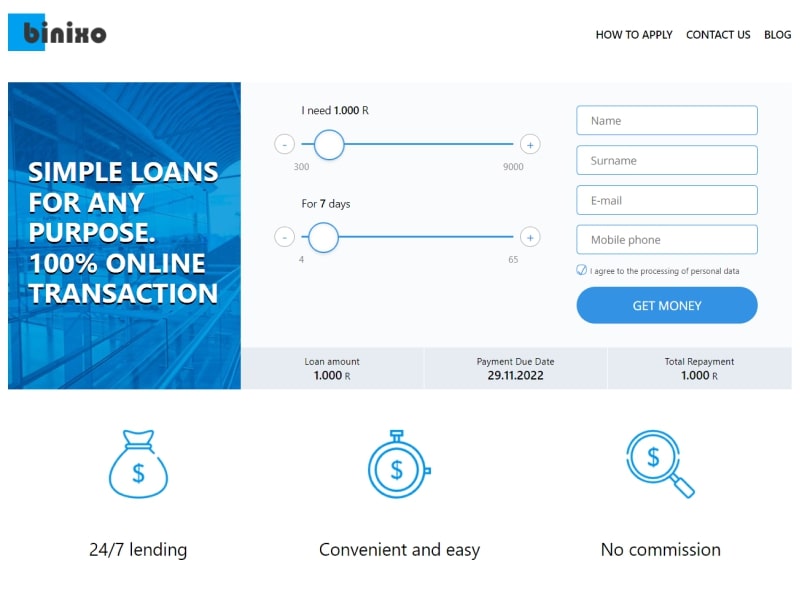 Author Binixo. Screenshot of Binixo website.


[Accessed January 21, 2021]
About Binixo
With consultants in over 15 countries, Binixo's services are always available.
Through Binixo, you can find payday loans at great rates. We advise that you always use a broker. Not only do they save you time, but money too. They can do this because of the relationships they've built with lenders in the industry. Because of the relationships with these lenders, you'll receive the best deals possible.
All about Binixo
Binixo has been operating since 2017 and has become the most reliable loan broker. They can be found throughout Eastern Europe, Asia, Spain, Mexico, and now Africa. Their goals are to give clients expert evaluations on the African credit market and help clients choose the best lender.
They also notify you when fees change and explain definitions and clauses in depth. Their consultants are knowledgeable so that you don't have to waste time on research. They're available at any time of the day if you have questions or concerns.
Choose Binixo
They're a broker that helps borrowers find quick loans by gathering quotes for them. Binixo has spent years building relationships and forming bonds with their panel of lenders and in turn, they've gained trust and loyalty. Binixo trusts their lenders and you can too.
Binixo's services are convenient and easy. Use them to choose the best offer for your needs. They run 24 hours a day, 7 days a week so that you can pick out a loan anytime. And they don't charge any commission fees so you can use their services for free.
Binixo Services
To be eligible for an instant payday loan through Binixo, you must be over 18, be a South African citizen, and be earning an income.
This ensures Binixo and the lenders that you can pay back the loan. The basic step for any loan is providing the correct information. Three things Binixo needs from you are your name and surname for verification purposes, email for sending documents, and phone number for SMS confirmation. You will receive this roughly 15 minutes after applying.
Binixo payday loans
Sometimes you need some money to live off while you wait for your salary to come in. This is the perfect use for a Binixo payday loan. A payday loan is any loan that can be paid back within 30 days.
Binixo offers you a panel of lenders for just that. Their instant payday loans require no paperwork as they're completed online. You can loan up to R9 000 through Binixo with a minimum of R300. Their loan terms are between 4 to 65 days. Their simple loans can be used for any purpose.
Advantages of instant payday loans
Because Binixo is a fully digital service, you don't have to leave the comfort of your home to take out an instant loan
Money obtained comes at fair rates
They don't perform any credit checks
Loan clearance is fast and cash is transferred fast
The loan can be taken out for short terms
Binixo, making living easier
All payday loans require no paperwork and are completed online. For those in need, there is also a no payslip loan and bad credit loans.
Binixo – Payday loan
Loan Type

Payday loans

Interest Rate

10.5 – 71% p/a

Loan Amount

up to R9,000

Repayment

4 days to 65 days

Decision

2 days
Benefits of Binixo
Our service is free
Choose between

trusted lenders
Easily

compare loan

options
A quick and simple online application
Binixo's services are all digital. So use their website to complete your paperless online loan application.
Don't be tied up with a time-consuming process. They've made their process as efficient as possible.
Select an amount (R300 - R9 000)
Select a loan term (4 - 65 days)
Fill in name and surname
Supply your email and phone number
Agree to the processing of data
Choose 'GET MONEY'
Fill in the new form accurately
Choose a creditor
Wait for confirmation
Receive your money
It's important to note that Binixo is not a lender but a broker. They offer a trusted panel of lenders that are willing to help you.
Their online services
Applying for an instant payday loan through Binixo has become a dream. Their platform is fast and reliable with accurate data for your convenience. The entire transaction is completed online.
There should be no concerns during your online loan application. With Binixo, there's no need to worry. Their platform is encrypted and protected. All your data is secured. Binixo will keep you informed and safe.
If you need a short-term loan, in any situation, then Binixo will find a lender to help you. They cater to a wide variety of people. Their privacy policy ensures your best interests in all situations. There are credit acts and clauses to safeguard you from misuse.
Customer Reviews & Testimonials
"
April 2020
Binixo helped me find the best lender.
Sarika G
— Pretoria —
February 2020
I was paid out so quickly through Binixo.
Sipho L
— Bloemfontein —
September 2020
Such a reliable service and fast responses.
David R
— Johannesburg —
Binixo Contact
Contact Number
E-Mail
Website