Personal loans up to R500,000
Low-interest starting from 36%
Repayment up to 90 days
In-page navigation
---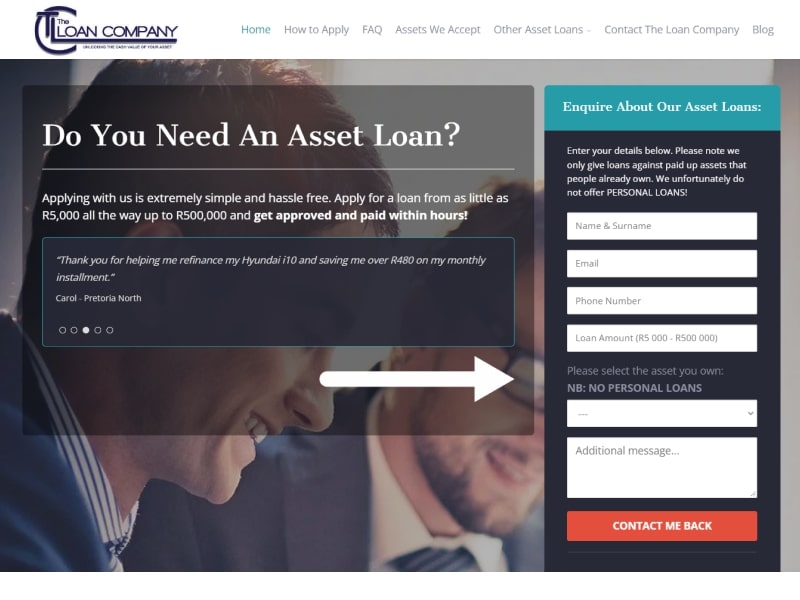 Author The Loan Company. Screenshot of The Loan Company website.


[Accessed April 14, 2021]
About The Loan Company
Life can quickly change its direction and cause an individual or business to urgently need access to funds. Needing money urgently through a banking institution usually requires a lot from a person such as gathering paperwork and credit checks.
This process can take time and there is always a high likelihood that one aspect can stop the process, causing more time that is not always available. The quickest way to get an approved loan is to provide a company like the Loan company with collateral to approve a short-term loan. Collateral such as assets such as vehicles that might already be in the possession of the client in need.
Fulfill financial needs with an asset loan
Asset loans allow a client to get approved and secure a loan in a short period. When in a financially stressful situation a person either has to choose to change their lifestyle to financially keep up, or take out a loan to ensure a stable recovery from the turmoil. These decisions need to be made very quickly, with not much time to reflect. Having assets such as a motor vehicle, caravan, or motorbike, gives a person access to an asset loan.
How the loan company serves its clients
The loans provided by the loan co. are for individuals and businesses that need access to funds immediately. Once the Loan co. has the asset, it is safely and securely stored until the loan is paid off. The moment the loan is paid the assets are returned safely to the client. This allows for a safe, hassle-free, and quick way to get the needed funds by using an asset already at the disposal and in proportion to the needed funds.
The Loan Company Services
The loan company is a private, independent company thus all funds are generated by shareholders. The only requirement needed for a loan is an asset, and the value of the asset determines the value of the loan.
Within hours a client will not only have an approved loan but also get their cash paid out. Not all people prefer the payback method of a loan and would prefer to simply pawn the asset. Currently, the following movable assets are considered secure and will provide surety of approval: cars, motorbikes, bakkies, trailers, trucks, boats, and caravans. If a Client has a property that is paid off in full, a loan against the property is also allowed.
No approval period
By providing the loan co with your asset, you provide them with trust that the loan will be returned. All that is needed is an ID, Driver's license, proof of address, Original registration document, Service book, and Key. The rest will be taken care of by the company. In the case of a loan against property, the requirements are that the house must be paid off, registered to a company or CC, and the duration of the loan.
Your credit score won't hold you back
The loan co understands that having access to funds does not only mean having a good credit score. A short-term loan is also sometimes needed towards building the credit score needed. Because of the short-term nature of the loans and the immediate availability of funds without a credit check, the interest rate is a bit higher.
The Loan Company – Personal loan
Loan Type

Personal loans

Interest Rate

36 – 60% p/a

Loan Amount

up to R500,000

Repayment

61 days to 90 days
Benefits of The Loan Company
A simple application process
Loans are approved within hours
We will beat any written quote
A loan that fits your pay range and needs
The nature of an asset loan allows a client to only feel secure in that they only borrowed that they will be able to pay back.
Because it is worked out against the price of the asset, it is worked out in the client's pay range. A person who has access to funds monthly but needs a large sum, now, to pay for schooling can provide an asset that reflects the schooling costs, and still comfortably pay off debt. When a client only needs to gain access to a large amount of money but does not want to commit to paying a loan, the asset can also be pawned off. Any need can be discussed and worked with.
Small asset loans
The minimum amount that can be loaned against an asset is R5000 which allows clients with a small income but access to assets to get cash when needed. The loan company understands that a person needs money to make money and wants to help those who have assets to get the cash they need to start a career.
Student loans
Students who have access to a day job or a bursary but need funds to pursue studies can easily access funds immediately can use small assets such as a scooter to pay off a loan. A loan of R10 000 against an asset has a monthly payment of only R1334 over 3 months which allows a client such as a student to take out a loan while earning minimum wage or using study funds.
The application process
You can apply for a loan online in a few seconds. A big part of the belief systems of the loan company is helping clients with funds immediately using what the clients already have in their possession to offer. Understanding that there is no time to go to a facility to apply for a loan is part of the process. The only time a person will have to go to the facility is when handing in the asset, where after the cash is transferred directly into the clients' account.
Insurance
While the loan company has possession of the assets it is stored safely and monitored 24 /7 by security and CCTV. Possessions are also insured by the company to provide the clients with a sense of security. Clients can feel secure throughout the whole process of having a loan at the loan company where inclusivity, security, and convenience drive every step they take.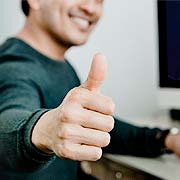 The Loan Company is a trusted & reliable provider of personal loans
In our review, The Loan Company adheres to the compliance criteria in accordance with the National Credit Act, where the granting the loan will not cause financial distress to the consumer.
The Loan Company is a registered credit provider in South Africa: NCRCP9054
Customer Reviews & Testimonials
"
October 2020
Applying for a loan at The loan Company is easy, and I got my money fast.
Nell H
— Port Elizabeth —
September 2020
The loan options are affordable with flexible repayment terms.
Jeremy G
— East London —
May 2020
I applied online for a loan and got my money on the same day. Thank you
Samantha P
— Pretoria —
The Loan Company Contact
Contact Number
E-Mail
Website
Physical Address
Office 2, DGE Building ,90 Sovereign Drive, Route 21 Corporate Park

Pretoria

Gauteng

0157

South Africa
Opening Hours
Monday

08:00 – 17:00

Tuesday

08:00 – 17:00

Wednesday

08:00 – 17:00

Thursday

08:00 – 17:00

Friday

08:00 – 17:00

Saturday

08:00 – 13:00

Sunday

– Closed